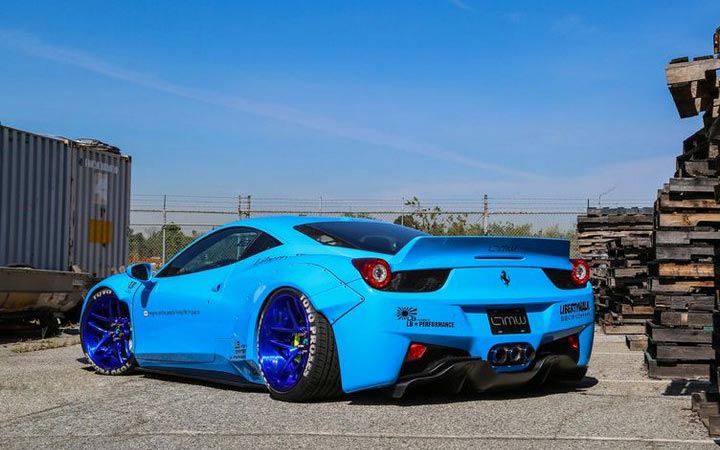 So what happens when Papa Smurf decides to modify a Ferrari 458 Italia? Well, we get an interesting package that some might love, others might hate. We're not sure on what side are we, because we try not to judge. Anyway, the ones responsible for this creation are not the smurf, but the folks from LB Performance, who claim that this paint wasn't part of the plan in the beginning, so the color is not this car's main highlight.
Once your eyes get used to that blue paint, you might notice that this 458 is wider than a stock Ferrari, because the guys from Liberty Walk, led by Wataru Kato, modified the fenders and widened them to make room for those extra wide 20-inch wheels which were also painted in a striking blue color. The car's look is quite strange, since the wider fenders are actually bolted to the car's body. The other parts were also modified, just like the exhaust system, which is not the standard one.
Liberty Walk is a Japanese tuning company that was founded in 1993 and have enough experience to heavily modify supercars such as Ferrari F40, Lamborghinis, Porsches or BMWs.
Get the latest stories delivered to your inbox
If you like our articles, please subscribe. We guarantee it's only extremely interesting stuff! Not to mention it's all for free.
You might also enjoy these other articles: