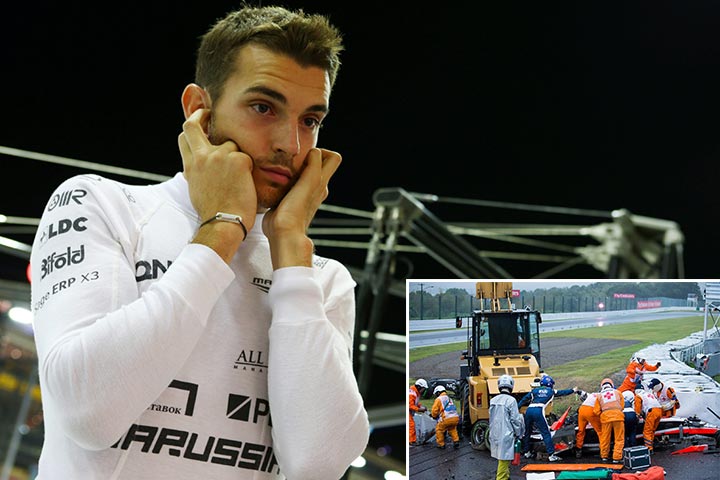 As you probably saw on TV or read about it online, Jules Bianchi is currently going through the most important race of his life so far, fighting for his life after the horrific crash at Suzuka. The Marussia driver lost control of the car in the Dunlop Curve, the same corner Sutil where had crashed the lap before. But instead of hitting the tire barrier, he violently hit the tractor that was deployed on the track to remove Sutil's car. He was immediately transported to the circuit's medical center, where it was decided his injuries were too serious for him to be transported by helicopter, so he was taken by an ambulance to the Mie University hospital, 10 miles away from the track.
Here is a video of the crash, but beware, it's pretty brutal (the crash is at around 1:10):
There aren't many official details about Bianchi's condition, but officials announced that CT scans showed what they call "severe head injury" and the operation ended at 10:40 pm local time. The only "good" news were that even though he still is critical, Bianchi is not on life support and his state is stable. Doctors announced that the next 24 hours are crucial for the 25 year old French driver. The wave of support from fans and celebrities all over the world is huge and our thoughts are with Jules and his family and we're really looking to bringing you some good news as soon as possible.
Bianchi's uncle, also Formula One driver, died on the track at 34
Jules Bianchi was born on August 3, 1989 in Nice, the beautiful French city on the famous Cote d'Azur. He entered Formula last year, joining Marussia, after being a test driver for Ferrari (2011) and Force India (2012). So far, his most notable performance in motorsport is winning the Formula 3 Euro Series in 2009. An interesting coincidence is that last year, at Suzuka, Bianchi crashed in the first lap, after colliding with Giedo van der Garde, both drivers being forced to retire.
Also, he is the grandson of Lucien Bianchi, a Belgian driver who raced in Formula One between 1959 and 1968. He died when he was 34 years old during a test session for the 24 Hours of Le Mans race.
Massa, saved by the helmet in 2009
The French driver's crash is the most serious accident in Formula One since Felipe Massa was extremely close to a tragedy back in 2009. During qualifying at Hungaroring, the Brazilian driver was hit by a part of the suspension system from Rubens Barrichello's car. Massa was hit right in the head by the flying part, lost conscious and went straight into the barriers. However, following a long surgery, the Brazilian made a complete recovery, but everyone agrees that a tragedy was extremely close.
Get the latest stories delivered to your inbox
If you like our articles, please subscribe. We guarantee it's only extremely interesting stuff! Not to mention it's all for free.
You might also enjoy these other articles: