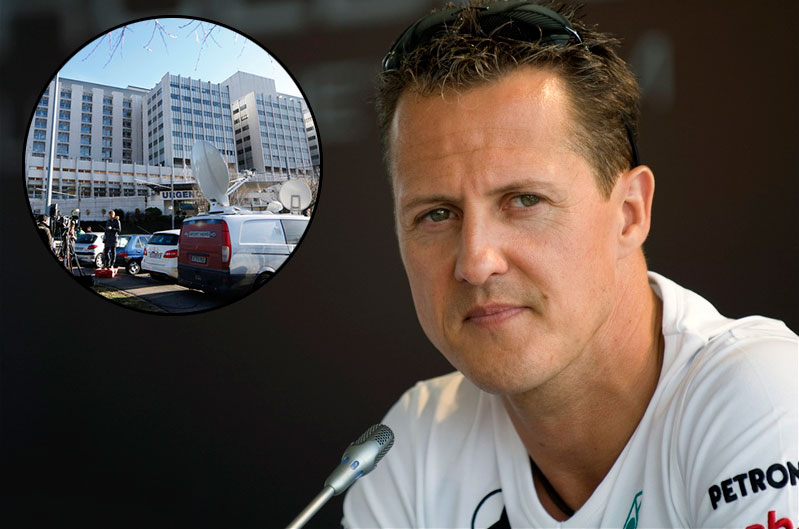 Finally, some good news about the German Champion! Six months after his terrible skiing accident that left him with severe head injuries and in a coma, it looks like Michael Schumacher's condition is slowly improving. With the family being silent for the past months, there have been countless rumors and reports about Schumi's state and many doctors feared the worst, including former Formula One doctor, Gary Hartstein.
But today an official statement was released by Sabine Kehm, Schumacher's manager. According to this statement, the German legend is no longer in coma and has left the Grenoble University Hospital. The statement said: "Michael has left the CHU Grenoble to continue his long phase of rehabilitation. He is not in a coma anymore. For the future we ask for understanding that his further rehabilitation will take place away from the public eye."
Kehm didn't mention anything about where Schumacher was moved, but most likely he will continue his rehabilitation at his home near Gland, Switzerland. The statement also doesn't reveal anything about the German's current state of health and whether he is conscious or able to recognize his family's members. In exchange, Kehm thanked the entire medical staff at the Grenoble hospital for their efforts in taking care of Michael and to the thousands of fans and friends that supported the family during these tragic moments.
"His family would like to explicitly thank all his treating doctors, nurses and therapists in Grenoble as well as the first aiders at the place of the accident, who did an excellent job in those first months. The family also wishes to thank all the people who have sent Michael all the many good wishes to Michael. We are sure it helped him."
UPDATE: It looks like Schumacher wasn't moved to his home, but to the University Hospital of Lausanne. The information was confirmed by one of the hospital's spokespersons, Darcy Christen, who hasn't revealed the reasons behind this move. So we don't know if it was because of medical reasons or because its closer to his home (20 miles, compared to the 100 miles to Grenoble).
Get the latest stories delivered to your inbox
If you like our articles, please subscribe. We guarantee it's only extremely interesting stuff! Not to mention it's all for free.
You might also enjoy these other articles: