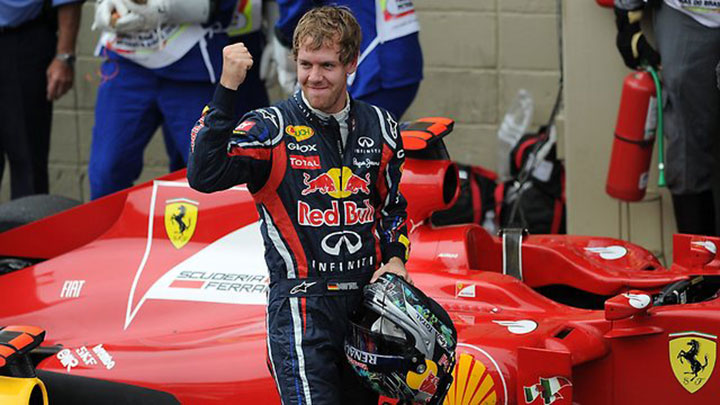 After countless rumors, the Scuderia has finally made an official announcement regarding the team's future driver lineup, with Sebastian Vettel confirmed as driver for the 2015 season. The announcement was made a few minutes after the team officially announced that Fernando Alonso will leave the team at the end of this season.
Fernando Alonso won the World Championship in 2005 and 2006 with Renault and joined Ferrari in 2010. If we are to trust all the speculation going around (which was right about Vettel), Alonso's future destination will probably be McLaren, which he drove for in 2007. During his previous stint at McLaren, Alonso was team mate with Lewis Hamilton and the harsh relationship between the two was notorious, leading to the Spaniard leaving the team at the end of the season (both of them finished the season one point behind champion Kimi Raikkonen). As for who will be Alonso's team mate next year, McLaren officials have yet to make a decision regarding Jensen Button or Kevin Magnussen, with an official announcement scheduled for December 1.
Guys, we know you're awaiting news on our driver line-up. We'll announce after Dec 1 – you'll hear it here first. All eyes now on Abu Dhabi.

— McLaren (@McLarenF1) November 18, 2014
As for Vettel, the German driver needs no introductions after winning four consecutive Championships between 2010 and 2013. However, after the important technical changed in Formula One last year, 2014 was a disastrous year for both Vettel and Ferrari (both finished 4th, the German in the Drivers' Championship, the Scuderia in the Constructors'). So will this move spice up things in our beloved sport? Hopefully yes, because the two-man show we saw this year can definitely get better and more exciting.
Get the latest stories delivered to your inbox
If you like our articles, please subscribe. We guarantee it's only extremely interesting stuff! Not to mention it's all for free.
You might also enjoy these other articles: