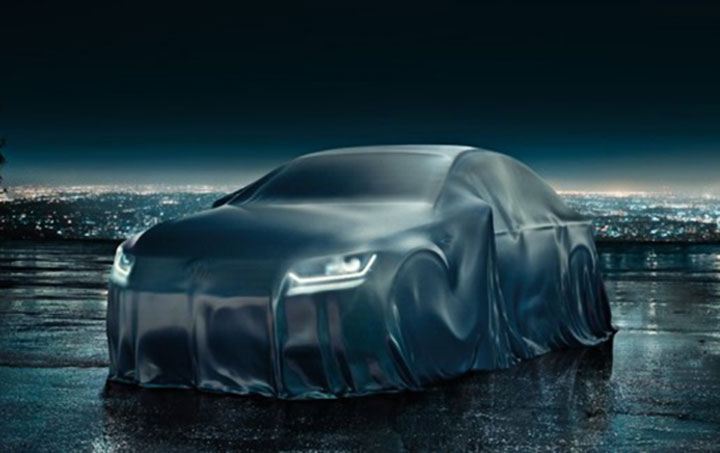 Introduced in 1973, the Volkswagen Passat has always been one of the most important model in the German carmaker's lineup and the model is preparing for its eight generation. About a couple of weeks ago, Volkswagen released several details and a few sketches of the new Passat, but this time what we're seeing is the first official teaser photo of the new model. We can't see too many details, because the car is hidden underneath a cover, but we can notice the car's silhouette and the LED headlights. Interesting details about the new generation is that unlike the current model, it will feature a new design of the headlights.
About the next generation Passat we already know that it will be built on Volkswagen's MQB platform and will lose about 187 pounds (85 kg) compared to the outgoing model. The interior's quality will also be improved, Volkswagen looking to bring the Passat closer to the premium segment. Top trim levels will get a 12.3-inch display that will replace the instrument cluster (just like we already saw in the new Audi TT) and the multimedia system will be able to synchronize with tablets or smartphones through a new generation of Modular Infotainment System. The features list will also include heads-up display, Trailer Assist system (makes backing up with a trailer easier), new generation Park Assist (allows front parking) and a new 360-degree Area View Function.
Besides the engines we already know, which produce between 120 and 280-hp, the next generation Passat will also get a new twin turbo 2.0-liter diesel engine that will deliver 240-hp and 369 lb-ft (500 Nm) of torque. The German carmaker will unveil the new Volkswagen Passat in mid-July, but the car will make its official debut this autumn at the 2014 Paris Motor Show.
Get the latest stories delivered to your inbox
If you like our articles, please subscribe. We guarantee it's only extremely interesting stuff! Not to mention it's all for free.
You might also enjoy these other articles: