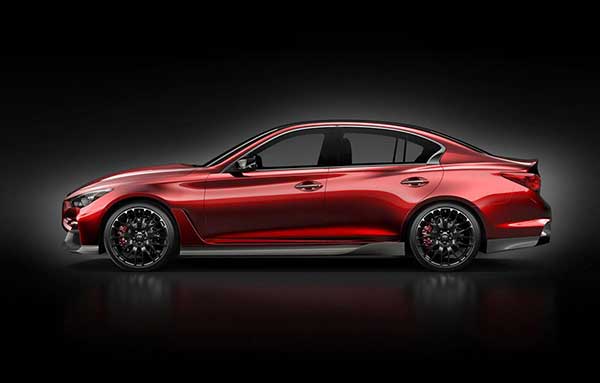 Next week, the Infiniti Q50 Eau Rouge will make its world debut at the 2014 Detroit Motor Show and the Japanese carmaker released a new image of the upcoming car, plus several new details about the car. According to Infiniti officials, the Q50 Eau Rouge is just a design study, but there are some voices claiming it previews an upcoming high-performance version of the Q50 mid-size sedan.
From the images Infiniti has released so far, we can see that almost all body has been redesigned for a more aggressive look and improved aerodynamics. Infiniti also mentioned that carbon fiber has been extensively used for the Eau Rouge concept, such as the front lip, side skirts or rear diffuser. The front grille dominates the front part and the concept comes with massive 21-inch wheels with Brembo disk brakes.
There was nothing about what's under the bonnet, but looking at the teaser website and considering Infiniti's recent involvement in Formula One, it's safe to say it's going to be something nice. Infiniti actually confirmed that the Formula One partnership with Red Bull helped them, but only mentioned the aerodynamics, nothing about the powertrain. As a matter of fact, Formula One fans might have recognized the car's name, which was inspired by the famous "Eau Rouge" corner on the legendary Spa-Franchorschamps track in Belgium.
"Performance is a key pillar of Infiniti's DNA and this car expresses a deepened design interpretation of that. The Q50, with an abundance of technologies, provides a great basis for an extreme performance version, embodied in the design of Q50 Eau Rouge," said Alfonso Albaisa, executive design director at Infiniti.
The Infiniti Q50 Eau Rouge concept will be unveiled in Detroit, on January 13, and the launch event will also be streamed online at unveil.infiniti.com.
Source: Infiniti
Get the latest stories delivered to your inbox
If you like our articles, please subscribe. We guarantee it's only extremely interesting stuff! Not to mention it's all for free.
You might also enjoy these other articles: