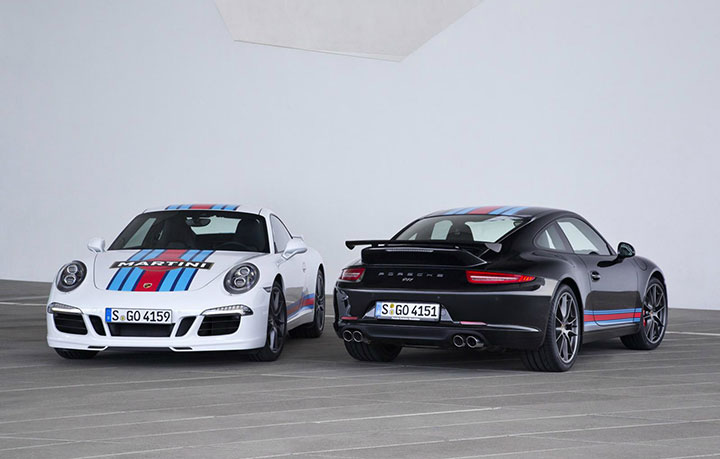 After 16 years of absence, Porsche are finally making their comeback to the world's most famous endurance race and to celebrate the moment, the German carmaker prepared a special edition of the Porsche 911 S. The car is available either in black or white, both versions also featuring the traditional Martini Racing blue-red stripes on the hood, roof, boot lid and on the side. The special edition also features Porsche's Aerokit Cup package that includes an optimized spoiler lip and a fixed rear spoiler.
The Martini Racing theme is continued on the inside too, where customers will be able to enjoy customized and illuminated side sills, a sports steering wheel, the Sport Chrono package, Martini Racing logo and several elements painted in the same blue-red color scheme. Porsche also announced the special edition's features lists includes Communication Management, electronically adjustable sports seats, leather upholstery and a high-end Bose sound system.
No upgrades were made to the powertrain, so the Porsche 911 S dedicated to the 24 Hourse of Le Mans is powered by the same 3.8-liter inline-six engine that produces 400-hp and is mated to a PDK automatic transmission. According to the official specs, the car sprints from 0 to 62 mph (100 km/h) in just 4.1 seconds.
Porsche announced that the special edition's production run will be limited to 80 units and sales are scheduled to start this month in Europe and later this summer in China, Latin America and Japan. Unfortunately, nothing was mentioned about North America.
Source: Porsche
Get the latest stories delivered to your inbox
If you like our articles, please subscribe. We guarantee it's only extremely interesting stuff! Not to mention it's all for free.
You might also enjoy these other articles: