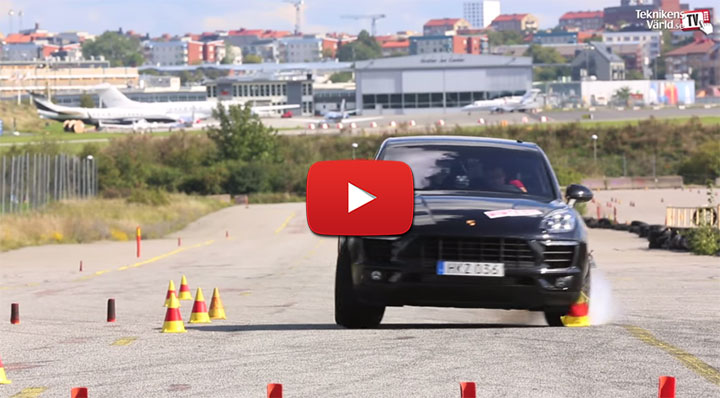 Swedish magazine Teknikens Varld has been performing the so called moose test ever since the 1970s and each year they "abuse" most new models with results being awaited by anyone slightly interested in car safety. Last week, it was the Porsche Macan's turn to avoid the moose, only that it didn't perform quite as expected. According to the Swedes, the front wheels locks in the middle of the evasive maneuver and the car will go straight ahead instead of following the path and getting back to the original direction. In real life, this translates into more time spent on the oncoming lane or the side of the road. Of course, no point in explaining what this would lead to.
"The behavior is extremely strange, which we don't see too often and we've seen it, unfortunately, in more Macans," said one of the guys in the testing crew. The tested Macans were loaded according to the manufacturer's specs and several tests were also performed with some of the weight off (around 150 kg/330 pounds), but the results were the same. Here's the video released by Teknikens Varld:
The official reply came almost immediately from Stuttgart, Porsche releasing a short statement explaining the car's behavior. According to them, this the issue is not actually an issue, but a safety element that prevents the car from rolling over. The car's behavior is a result of the Active Rollover Prevention (ARP) feature, when the priority is not to keep the car on course but to keep on all four wheels and stop it from flipping over.
Here's a quote from the official statement: "The function (ARP) is applied for a maximum of 300 milliseconds, depending on the driving situation. This short intervention ensures the directional stability of the vehicle. Lateral displacement is negligible. For this reason we do not regard this driving state as critical. As the video shows, lane changing can be completed stably and safely. What is more critical in this situation is if the vehicle were to roll over or the rear were to break away. The vehicle demonstrated none of these instable states (rollover, oversteer, wheel lift) at any time."
Get the latest stories delivered to your inbox
If you like our articles, please subscribe. We guarantee it's only extremely interesting stuff! Not to mention it's all for free.
You might also enjoy these other articles: