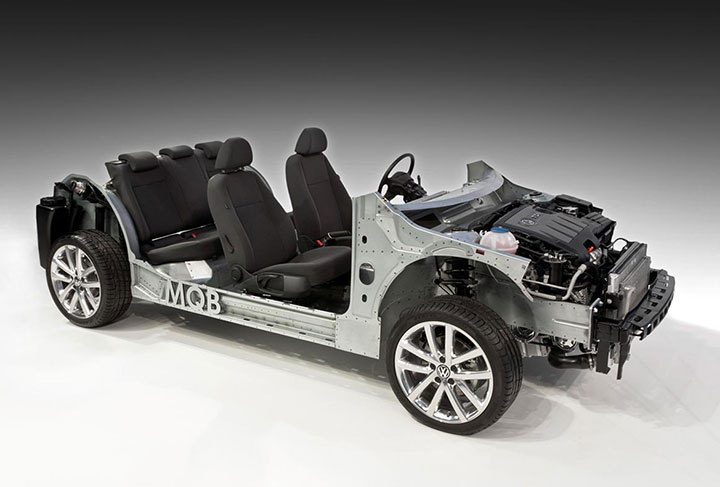 Detroit consulting company IHS Automotive has recently published the results of a study that analyzed how effective are modular platform for cutting development costs. IHS estimated how much money will be saved by carmakers that have already implemented this type of platforms based on forecasts made for 2020. In that year, industry analysts anticipate that global sales will be at 27.8 million units, a significant increase compared to the 19.2 million vehicles that will most likely be sold this year. The researchers took a look at the most popular (best selling) ten platforms and the results showed that Volkswagen and Renault-Nissan will be leaders in this category.
Modular platform offer a great way for carmakers to reduce costs, despite being quite risky in case of unexpected costs such as a service recall. These possible recall costs are getting higher and higher as more vehicles are sold. However, even with these recall risks, carmakers are saving a lot of money by sharing research and development costs and thanks to the cost reductions, many technologies will be available cheaper and faster to the consumer.
Like we mentioned, the carmaker to benefit most from these modular platforms is Volkswagen, whose MQB platform could be a huge winner on the long run. The platform is already being used by Audi, Volkswagen, Seat and Skoda, with plenty of additional models already being scheduled. The platform was unveiled for the first time in 2012, on the seventh generation Volkswagen Golf and more than 5.8 million units built on this platform are expected to be sold in 2020. But that's not all, because Volkswagen's smaller version of the modular platform, the MQB A0 will also sell around 2.2 million units, which brings Volkswagen's total to around 7 million units.
Second most successful modular platform will be Renault-Nissan's CMF2 platform which is or will be used on popular models such as the Renault Clio, Nissan Juke, Nissan Micra or Nissan Note, with a total number of 3.5 million units to be sold in 2020. The French-Japanese carmaker will also have the fourth most popular modular platfor, the CMF1, which will be used for models such as the Nissan Rogue/Qashqai and the Renault Megane, with estimated sales of 2.7 million, bringing the group's total number to 6.2 million.
| | | | |
| --- | --- | --- | --- |
| Company | Platform | Sales in 2020 | Key models |
| 1. Volkswagen | MQB A/B | 5.8 million | Golf, Jetta, Tiguan, Passat |
| 2. Renault-Nissan | CMF2 | 3.5 million | Clio, Juke, Micra Note |
| 3. Toyota | NGA-C | 2.8 million | Auris, Corolla, RAV4, Prius |
| 4. Renault-Nissan | CMF1 | 2.7 million | Qashqai/Rogue, Megane |
| 5. Honda | CCA | 2.4 million | Civic, CR-V, Accord |
| 6. GM | Delta | 2.3 million | Astra, Cruze, Equinox |
| 7. Hyundai | PB | 2.3 million | Accent, Pride, Rio, i20 |
| 8. Volkswagen | MQB A0 | 2.2 million | Polo, A1, Rapid |
| 9. Ford | C2 | 1.9 million | Focus, Escape |
| 10. Honda | GSP | 1.9 million | Fit, City, Brio |
Get the latest stories delivered to your inbox
If you like our articles, please subscribe. We guarantee it's only extremely interesting stuff! Not to mention it's all for free.
You might also enjoy these other articles: