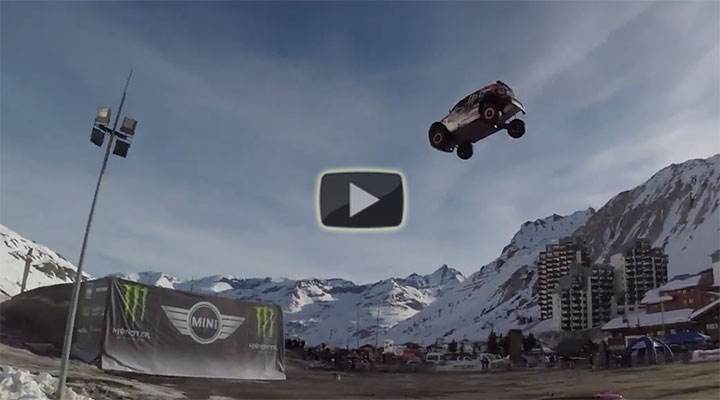 Back in March, French rally driver and professional skier Guerlain Chicherit tried to break the world record for the longest car jump. To do that, he drove a modified Mini Countryman on a special ramp built in Tignes, a ski resort in south-eastern France. If successful, Chicherit's 360 ft jump (almost 110 m) would've beaten the record held by Tanner Foust by almost 30 feet.
Unfortunately, something happened and even though the French did some successful practice jumps, during the final and official jump, the car didn't land as it should have and rolled for a few hundred feet. The high definition video released by GoPro is amazing and shows the crash from several angles, including Chicherit's reaction when he's mid-air and realizes something went wrong.
James Kirkam, creative team leader for GoPro Original Productions, who was present on that day, describes the situation: "The life of a professional stunt athlete is rarely without consequences. We see them fall, crash, get hurt and, yes, sometimes they die. But what we captured inside Guerlain's car was very different than a crash video. We captured 'that moment'. A look on a man's face a light in his eyes when he realizes "this is it, I'm going to die". Three or four seconds that seem like minutes, without time. Where I expected to see fear, panic, contortion and pain, Guerlain shows us a deep existential calm."
To be honest, Chicherit's reaction doesn't surprise us, because even though he was doing 100 mph, don't forget we're talking about someone who backflipped a freakin' car! Despite the terrible crash, he was soon released from the hospital with minor injuries. The actual failed attempt part starts at 7:00 minute mark, but the entire 12-minute video is worth watching.
Source: GoPro
Get the latest stories delivered to your inbox
If you like our articles, please subscribe. We guarantee it's only extremely interesting stuff! Not to mention it's all for free.
You might also enjoy these other articles: